The Hindu Analysis
---
Forest Department's initiative to restore natural vegetation (Important for Environment: GS lll) Page 6
The Forest Department in association with Noolpuzha grama panchayat in Kerala has launched the 'Vanikaran' (afforestation) project to root out invasive plants, especially Senna spectabilis, and restore natural forests.
The project was being executed on forestland under the Sulthan Bathery forest range of the Wayanad Wildlife Sanctuary in Kerala.
Apart from planting the saplings, the authorities ensure the protection of plants for the next five years under the project.
The workers, whose services are utilised under the MNREGA scheme, have also constructed soil bunds and pits for harvesting rainwater to ensure availability of water for saplings.
---
Lending a helping hand to eliminate TB as Ni-kshay Mitra (Important for Welfare Schemes: GS ll) Page 12
In order to improve the nutritional improvement among TB patients, the Union Health Ministry launched the Ni-kshay Poshan Yojana in 2018 as a part of National TB Elimination Programme (NTEP), which provides direct cash benefit transfer of ₹500 per month to TB patients on treatment.
Under this, Ni-­kshay Mitras can adopt and care for TB patients. They are volunteers who could be individuals NGOs , cooperative societies, corporates, and even political parties.
They commit to help the TB patients through nutritional support, nutritional supplements, additional, investigations and vocational support.
Helping a TB patient could avert ruinous downslide of a family due to wage loss.
The success of these schemes depend upon Jan Bhagidari (people's participation) which plays a key role in mass awareness, behaviour change, demand creation, clearing myths, and convincing the reluctant to embrace service.
The success of these health programmes reinforced our belief that a further augmentation of multisectoral approach involving community and institutional stakeholder support in TB elimination is required.
This can play a pivotal role in addressing the social and nutritional determinants, thereby contributing towards the attainment of national goal.
Jan bhagidari forms the core principle of the recently launched Pradhan Mantri TB Mukt Bharat Abhiyaan to provide additional support to TB patients.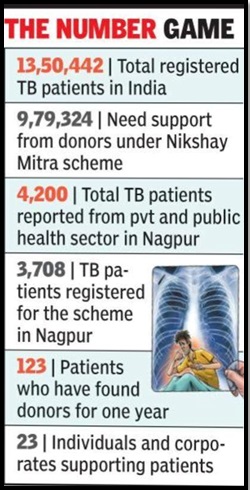 ---
Why a price cap on Russian oil? (Important for IR: GS ll) Page 13F
NEWS: Western countries comprising the Group of seven nations, the European Union and Australia, agreed to a price ceiling of $60 per barrel of seaborne Russian Urals crude oil.
Why did the West want a price cap?
Western nations, led by the G­7, want to punish Russia for invading Ukraine and rein in the profits accruing to Russia from oil exports.
But they also want to keep some oil from Russia flowing globally so that supply is not significantly affected, which could push up energy prices.
The West had hoped that Russia would still see incentive even with lesser profit, to keep pumping out oil for global consumption.
How has Russia responded?
Russia had first said the price cap might only impact its output minimally. Later, it also spoke about considering a ban on export to countries that insisted on the price cap.
Russia is also said to be considering a floor price in retaliation to the price cap which would aim to ensure that it did not sell below that level.
How has Russia's oil output been this year?
Between January and November, Russia's production rose 2% to about 488 million tonnes, as per global media reports. China and India are popular examples of countries that bought the discounted oil.
But the likes of France and major oil producer Saudi Arabia too purchased oil from Russia.
How much oil does India import from Russia?
Reuters reported that in November, India bought 53% — or about 3.7 million tons — of all the seaborne Urals crude that Russia exported.
How are global oil prices behaving?
Urals crude touched about $53, compared with about $73 to a barrel on November 8
---
WEBSITE : https://geoias.com/
FACEBOOK : https://www.facebook.com/geoiaskolkata
INSTAGRAM : https://www.instagram.com/geoias
TWITTER : https://twitter.com/GeoIas
EMAIL ID : info@geoias.com
TELEGRAM : https://t.me/Geo_Ias
MOBILE APP : https://treeloki.page.link/Rg1u
YOUTUBE : https://www.youtube.com/@geoiasupsc
FORONLINE/OFFLINE CLASSES : +91 9477560001, 9477560002
---