---
News & Editorial Analysis 16 December 2022
---
The Hindu
China builds ropeway, roads near tri-junction (Internal Security: GS lll) Page 1.
China has set up a ropeway near the Torsa Nala located near Dokhlam on its side of the India­-Bhutan-China tri-junction, and is strengthening roads and other infrastructure along the entire eastern sector.
In the Yangtse area of Tawang sector in Arunachal Pradesh, China had stepped up patrols some years ago to assert its claims in the area, after finding that their grazers could not move in and out.
What irks the People's Liberation Army (PLA) is that the Indian Army holds the dominating heights which give a complete view of the bowl.
The Line of Actual Control (LAC) is divided into the western (Ladakh), middle (H.P. and Uttarakhand) and eastern (Arunachal Pradesh and Sikkim
India and China have mutually agreed disputed areas and areas of differing perception along the 3,488 km­ long LAC. In eastern Ladakh there are two mutually agreed disputed areas and ten areas of differing perceptions.
---
Curbing air pollution in India needs efforts across South Asia: WB report (Environment : GS lll) Page 14
India has six large air-sheds, some of them shared with Pakistan, between which air pollutants move. Therefore, significant reduction in particulate matter is possible only if the territories spanning the air-sheds implement coordinated policies: World Bank Report.
Using a modelling approach over South Asia as a whole, the report lays out multiple scenarios and the costs involved in reducing the average South Asian's exposure to particulate matter. It has also identified six major air-sheds in South Asia where air quality in one affected the other.
Even if Delhi National Capital Territory were to fully implement all air pollution control measures by 2030 while other parts of South Asia continued to follow current policies, it wouldn't keep pollution exposure below 35 g/m3.
The most cost-effective way to reduce air pollutants is then full coordination between air-sheds which accounts for the interdependence in air quality within South Asia.
---
'U.S. created Indo­-Pacific concept to contain China' (IR: GS ll) Page 15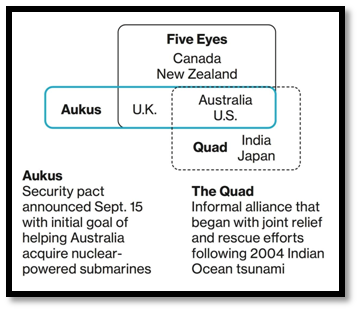 There "is no such concept as Indo-Pacific" which was "created by U.S." to bring in partners such as India to "contain" China : A Chinese diplomat.
His comments underline Beijing's hardening view of both the Indo-Pacific idea as well as regional groupings such as the Quad. China officially does not use the term, and refers to the region as Asia-Pacific.
"The U.S. Indo­-Pacific strategy is becoming a byword for bloc politics. It professes desire for international cooperation, but in reality is stoking regional rivalry. The real goal for the Indo­-Pacific strategy is to establish an Indo­-Pacific version of NATO": Chinese Foreign Minister.
India has strongly pushed back against China's invoking of NATO as a comparison and pointed to the fact that India is not a US ally and the Quad was not a military alliance.
---
The Hindu Editorial Analysis
Cybersecurity In India
People who have access to the internet are becoming more prevalent in India. India is currently the second-largest internet market in the world despite its unrealized potential. Although the development of technology and the internet has many advantages, it has also resulted in a rise in cybercrime that affects people all over the world. The Pegasus espionage episode and the Wannacry attack both highlighted India's vulnerability to the dangers of cybercrime.
India's cyber security is impacted by the following problems and risks
Cyberterrorism is defined as a planned, violent attack with political motivations against information, computer systems, computer programmes, and data.
Digital data threat: As internet sales increase, online scammers are more driven to operate. In addition to collecting data, businesses frequently produce intellectual property, which is in and of itself a desirable goal (such as customer information, the results of product surveys, and general market intelligence).
A nation-state or international organisation engaging in cyberwarfare involves attacking and attempting to harm the computers or information networks of another nation-state.
Issues with Cybersecurity Infrastructure: Like any other connected system, most devices and technical systems are susceptible to hackers. Despite the National Vital Information Infrastructure Protection Center's existence, the government has not yet selected and put protective measures for critical information infrastructure into place (NCIIPC).
lacking any professionals China is the only nation that surpasses India in terms of the number of Internet users worldwide (Internet World Stats, 2017). In contrast to its internet user base, India has a relatively small community of cyber-security experts.
Inefficient law enforcement: India's cyber security approach has been haphazard and non-systematic up until this point. Despite the existence of several organisations, laws, and programmes, their execution has fallen short.
Lack of Collaboration: There are too many agencies with overlapping responsibilities in the field of cyber security, which causes inadequate cooperation between these organisations.
The government of India is acting to improve cyber-security
The Information Act of 2000 is the primary statute in India for preventing cybercrime and online business (as revised in 2008).
2013 National Cybersecurity Policy The strategy offers a strategic direction and a vision for defending the country's online.
The India-based CERT-In (Cyber Emergency Response Team): Since 2004 CERT-In has been in operation. It acts as the nation's focal point for addressing any new problems relating to computer security.
I4C, or the Indian Centre for Coordination of Cyber Crime
The Union Government has made the decision to launch 14C. It will serve as the main coordination point for the battle against cybercrime.
Swachhta Kendra Digital: Customers can use the Cyber Swachhta Kendra, a portal for malware removal and system analysis, which was originally introduced in early 2017.
India's Digital Surakshit: The Ministry of Electronics and Information Technology (MEIT) announced the Cyber Surakshit Bharat programme to raise public awareness of cybercrime and develop capacity for safety measures for Chief Information Security Officers (CISOs) and frontline IT personnel across all governmental agencies.
The government declared the Cyber Warrior Police Force (CWPF) would be established in 2018. It is made to be raised in line with the paradigm of the Central Armed Police Force (CAPF).
Plan for the Prevention and Reduction of Cybercrimes Against Women and Children: The Ministry of Home Affairs established the initiative with the goal of preventing and reducing cybercrimes against women and children.
How to Continue
For applications, equipment, and infrastructure, increased testing capability and expertise are critically needed.
The development of human resources must be given top priority in the near future in order to enhance the number of professionals capable of successfully managing the nation's cyber security.
R&D: Investments should be made in R&D to provide more cutting-edge technologies in order to combat the growing threats to cyber security.
Administration and policy: Strong policies must be drafted and applied correctly. For efficient operation and improved communication between departments and stakeholders, duties and responsibilities should also be clearly defined.
Public education on cyber security threats should be a regular endeavour for the government and major corporations.
To better address cyber security, there has to be more cooperation between the public and private sectors. In our increasingly linked society, cybersecurity is crucial. Even if the government has taken a number of preventative measures, the nation's cyber-security may still use some work. An effective policy must be in place, and it must be implemented well.
---
The Indian Express Editorial Analysis
Pendency Of Cases
Court Cases in India that are still pending
In the courts around the world, there are currently more than 4.7 billion cases that are outstanding.
Around 1,82,000 of them have remained unresolved for more than 30 years, with 87.4% of them in lower courts and 12.4% in high courts.
According to the National Judicial Data Grid, the Bombay High Court is now managing 5.88 lakh cases, of which 1.14 lakh new cases were brought in the preceding year (NJDG). More than 16,000 people have had their criminal cases outstanding for more than ten years.
Root causes of the issue
The primary cause of this predicament is the severe paucity of judges in India's high courts.
In addition to the deficit, a major issue in lower courts is the absence of crucial infrastructure.
In subordinate courts, there are more than 5,000 open positions despite a sanctioned capacity of 24,490.
The coronavirus outbreak caused additional delays in the Indian legal system.
When courts went digital, fewer new cases were filed; but, with lockout limits in place, a slower case disposition rate led to more ongoing cases.
The Bombay High Court contains benches not just in its capital city of Mumbai but also in Aurangabad, Nagpur, and Goa.
There are currently 57 judges working there; 48 of them are permanent, and nine are auxiliary.
Behind Allahabad HC, 94 is the second-highest authorised strength.
The number will continue to decrease as a result of upcoming retirements and promotions.
Constitutionally required qualifications for choosing judges
In accordance with Articles 124(2) and 217 of the Constitution, the President appoints judges to the Supreme Court and High Courts.
"Every Judge of the Supreme Court must be appointed by the President by warrant under his hand and seal, following consultation with such Judges of the Supreme Court and of the High Courts of the States as he may consider necessary," states Article 124(2).
Article 217 states that the Chief Justice of India, the Governor of the State, and, in cases where a judge other than the Chief Justice is chosen, the Chief Justice of the High Court, must all be consulted before the President appoints a judge to a High Court by warrant bearing his hand and seal.
Collegium System
Supreme Court decisions, not a law passed by parliament or a clause in the constitution, have changed the way justices are appointed and transferred.
The four seniormost Supreme Court judges make up the collegium, which is presided over by the Chief Justice of India.
The four seniormost judges on the court plus the Chief Justice of a High Court make up the collegium.
Before names are forwarded to the government by a High Court collegium for consideration, the CJI and Supreme Court collegium must first give their approval.
For the higher judiciary, only the collegium system is used to choose judges, and the government gets engaged only the collegium has chosen names.
The role of the government in appointing judges
Government involvement is minimal.
The only route for a lawyer to become a judge on the High Court or Supreme Court is through a Home Ministry-led investigation.
It may also call into question the collegium's decision-making and demand justifications.
The government must, however, appoint the same individuals as judges in conformity with the Constitution Bench's rulings if the collegium confirms their nominations.
Way Forward
The government needs to choose judges as soon as possible since holding off prevents the general public from accessing justice. When justice is delayed, it is denied.
To reduce court workload, the judge-to-population ratio urgently has to be changed.
Directives from the Union's government:
The Indian Courts and Tribunal Services (ICTs) and longer court hours were two suggestions made by the Center to boost judicial productivity. One of the other recommendations was to create fast-track courts.
E-platforms: More courts should be established, and electronic platforms should be employed, to strengthen the legal system.
The eCourts Project has seen the introduction of ecourts.gov.in, India's national e-Courts portal.
Enhance the process for alternative dispute resolution (ADR):
The use of strategies like conciliation, mediation, and arbitration is made.
It makes use of an impartial third party to facilitate discourse, conflict resolution, and communication between the parties.
It ensures that every civil issue will be settled in accordance with the written provisions of the law.
Counseling: Issues can be resolved through counselling before going to court.
Lok Adalat
An intriguing aspect of the Indian legal system is the development of nonprofit organisations like Lok Adalats (People's Courts).
It acts as a stand-in strategy for resolving conflicts.
It has a relaxed atmosphere that makes it easier to talk to the judge and solve issues without focusing too much on the specifics of the law.
Its decision is final, enforceable against the parties to the dispute, and will be regarded as a civil court's ruling.
Its order cannot also be legally challenged.
---
WEBSITE : https://geoias.com/
FACEBOOK : https://www.facebook.com/geoiaskolkata
INSTAGRAM : https://www.instagram.com/geoias
TWITTER : https://twitter.com/GeoIas
EMAIL ID : info@geoias.com
TELEGRAM : https://t.me/Geo_Ias
MOBILE APP : https://treeloki.page.link/Rg1u
YOUTUBE : https://www.youtube.com/@geoiasupsc
FORONLINE/OFFLINE CLASSES : +91 9477560001, 9477560002
---